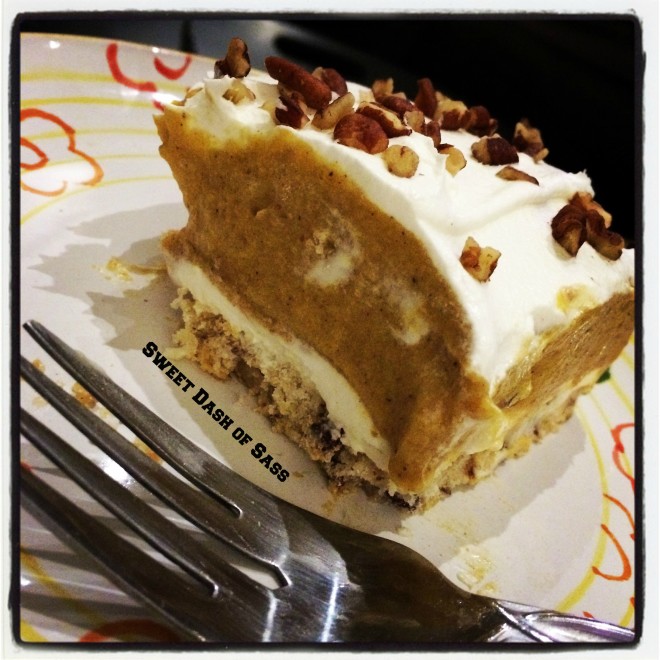 I am a huge fan of Fall.  Who isn't?  The weather, leaves changing, apple cider, pumpkin pie, well anything pumpkin really…
Since many of you on the East Coast are experiencing freezing cold temperatures and snow storms, you either are missing Fall or looking forward to Spring.

Loading ...
So, you are probably wondering why I have Fall on my brain.  Well, you know those Pinterest emails you might get that recommend pins or boards for you to check out.  I recently received one this week and as I was scrolling down the email looking at the recommendations, I happened to come across this one.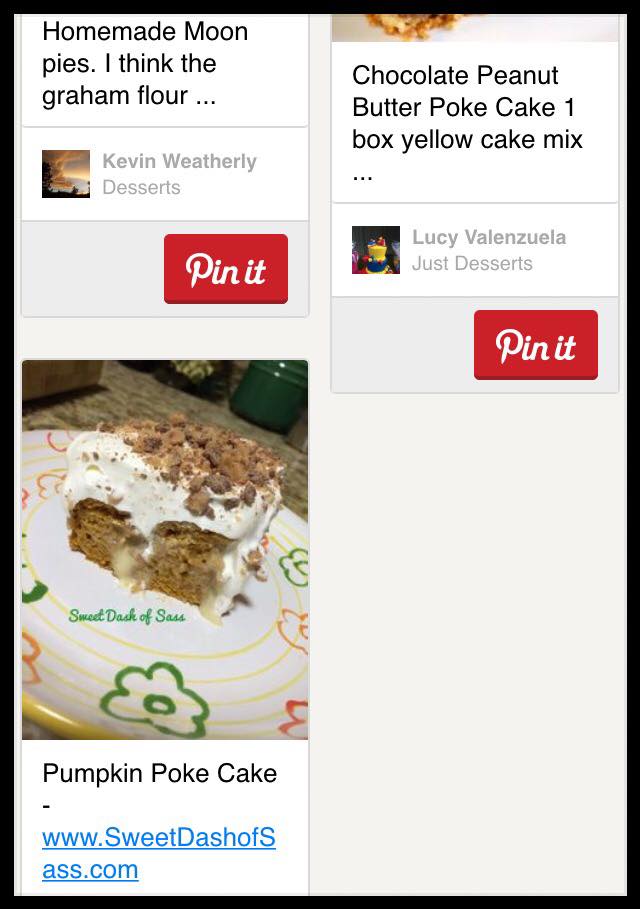 I had to do a double take.  One of my recipe posts!!  I was beyond excited.  If you haven't made or tried this Pumpkin Poke Cake recipe yet, definitely add this one to your list.  Seriously, this recipe is the real deal.  It's insanely good.  It's one of those desserts that taste 100x better the following day, if you can find the urge to not eat it for that long.  The cake portion contains no oil, no egg, and no butter.  You can even make it "somewhat" healthy by using Fat Free Condensed Milk and Fat Free Cool Whip.  Mmmm…I wish I could have a piece right now!
Then, two years ago I made a Brown Sugar Streusel Pumpkin Pie, which I highly recommend if you love pumpkin pie and looking to do a different twist to the usual tasty dessert. You won't regret it.  You might not even want to share.   This was a popular favorite at Thanksgiving.  You might want to pin this one now to save for next Thanksgiving!
With that said, I thought I would share another (NEW!) pumpkin dessert with all of you to help celebrate the one being featured in a Pinterest email!  Maybe it will help you get out of the Wintertime blues.
I wanted to make a new spin on both of these previous desserts and happened to come across this recipe inspiration on Pinterest.    Aside from baking the crust, the rest of the dessert is no-bake.  It's so good and my hubby was a fan of it too!  Highly recommend!!
Pumpkin Layer Delight
Author:
Sweet Dash of Sass
Ingredients
1 cup flour
½ cup butter
½ cup plus ¼ cup Pecans, chopped
8 oz. Cream cheese, softened
1 cup powdered sugar
3 cups Whipped topping, divided (1 large tub, I used Cool Whip brand)
2½ cups Milk
3 sm pkgs Vanilla instant pudding mix
1 - 15 oz can Pumpkin puree
1 teaspoon cinnamon
½ teaspoon ginger
⅛ teaspoon cloves
⅛ teaspoon nutmeg
Instructions
Pre-heat oven to 350 degrees.
Layer 1: Mix flour, butter and ½ cup pecans together. Press into a sprayed 9x9 or you can line with parchment paper. Bake for 15 minutes, then remove and let cool.
Layer 2: Blend cream cheese and powdered sugar, add 1 cup of the whipped topping then spread over cooled crust.
Layer 3: Mix milk, pudding mix, canned pumpkin, seasonings and 1 cup whipped topping until smooth. Spread over top of layer 2.
Layer 4: Spread remaining 1 cup of whipped topping and sprinkle pecans.
Cover with foil. Let chill for 3 hours or until set.
Adapted from
Lilluna.