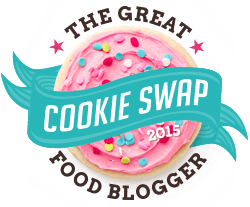 This is my 2nd year as a participant in The Great Food Blogger Cookie Swap, where each participant sends one dozen homemade cookies to three different people chosen by the organizers.    I was so excited to participate again in this fun swap.  Not only do I love to bake and enjoy cookies, but it also supports a great cause – Cookies 4 Kid's Cancer.  A win-win situation!
I received (huge) White Chocolate cookies from JenniferBakes, Chocolate Rugelach from The Chef in Pearls, and some Shortbread Style cookies dipped in Chocolate (which I'm not sure who they were from, but they were super delicious.)  Here are some pictures of the cookies and the packaging.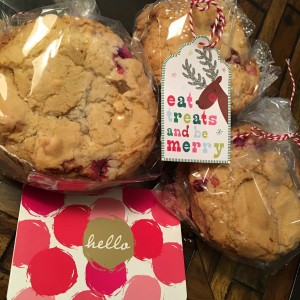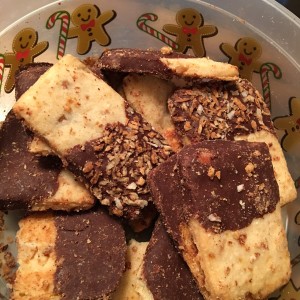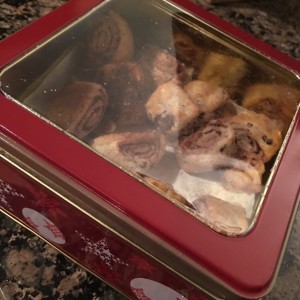 I sent cookies to Crystal from Chasing Saturdays,  Candice of Nifty Spoon, and Jessica from The PinterTest Kitchen!
I happened to make my Oatmeal Butterscotch Cookies!!  Here is how I packaged these sweet treats in the mail!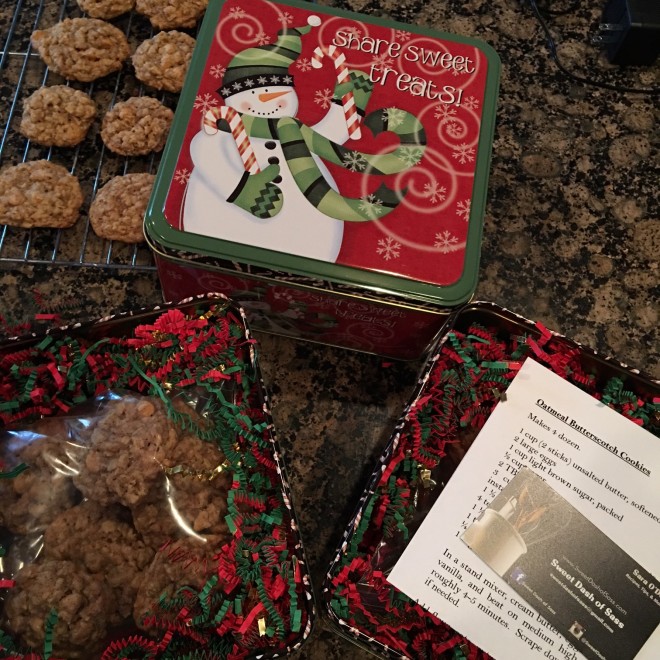 PS.  If you're wondering… there is a $4 sign up fee to participate and that is what goes to the charity.   If you'd like to receive a notification when it's time to sign up next year, you can do that here.
Now onto the yummy cookie recipe!

Oatmeal Butterscotch Cookies
Author:
Sweet Dash of Sass
Recipe type:
Cookies, Dessert
Ingredients
2 large eggs
1 cup unsalted butter (2 stick)
1 cup light brown sugar, packed
½ cup granulated sugar
2 tablespoon vanilla extract
3 cups old-fashioned whole rolled oats (not instant or quick cook)
1½ cup all-purpose flour
4 teaspoons cinnamon
1½ teaspoon ground nutmeg
1 teaspoon baking soda
¼ tsp salt
1 bag butterscotch chips
Instructions
In a stand mixer, beat eggs, butter, brown sugar, white sugar, vanilla on medium-high until light and fluffy, for 5 minutes. Scrape sides of bowl if needed.
Add oats, flour, cinnamon, nutmeg, baking soda, and salt. Beat just until incorporated. Add in butterscotch chips and beat just to immediately incorporate.
Using a 1-inch cookie scoop, scoop out all dough into balls. Place balls on wax or parchment paper and refrigerate for at least 1 hour. You can also keep covered in refrigerator for up to 5 days.
Preheat oven to 350F, line baking sheets with parchment. Place cookie balls on baking sheets, spaced about 2 inches apart.
Bake for 9 to 10 minutes, or until edges are set and tops are barely set. Cookies may not appear to be done, but they firm up as they cool.
Cool on cookie trays for about 5 minutes before transferring to a wire rack.
Store cookies in airtight container at room temperature for up to a week.
Allow cookies to cool on trays for about 5 minutes before transferring to a wire rack to finish cooling.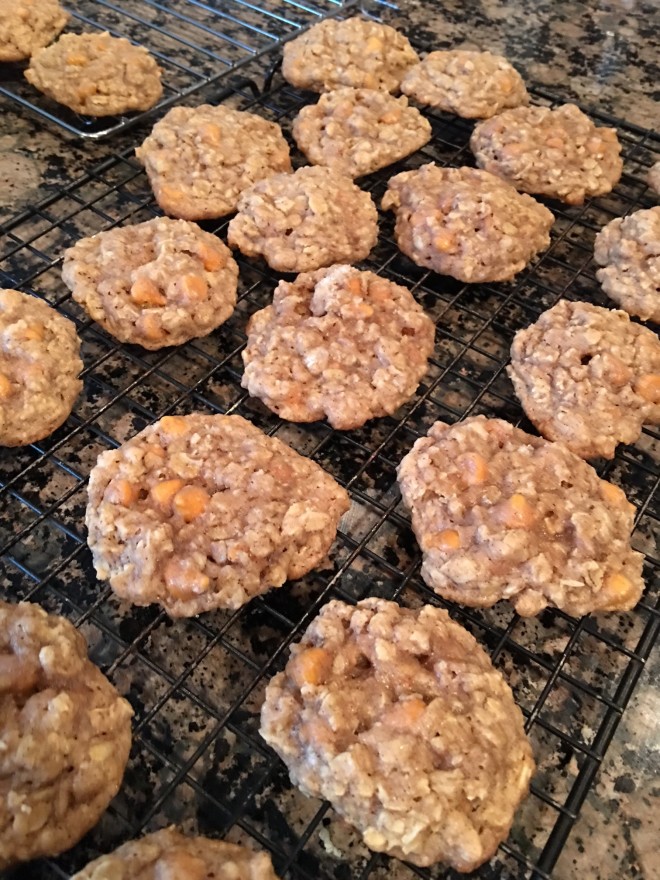 ———————————————————————————————-
Like me on Facebook: Sweet Dash of Sass  CLICK LINK —>    Sweet Dash of Sass
Follow me on Instagram @SweetDashofSass
Follow me on Twitter @SweetDashofSass
———————————————————————————————–