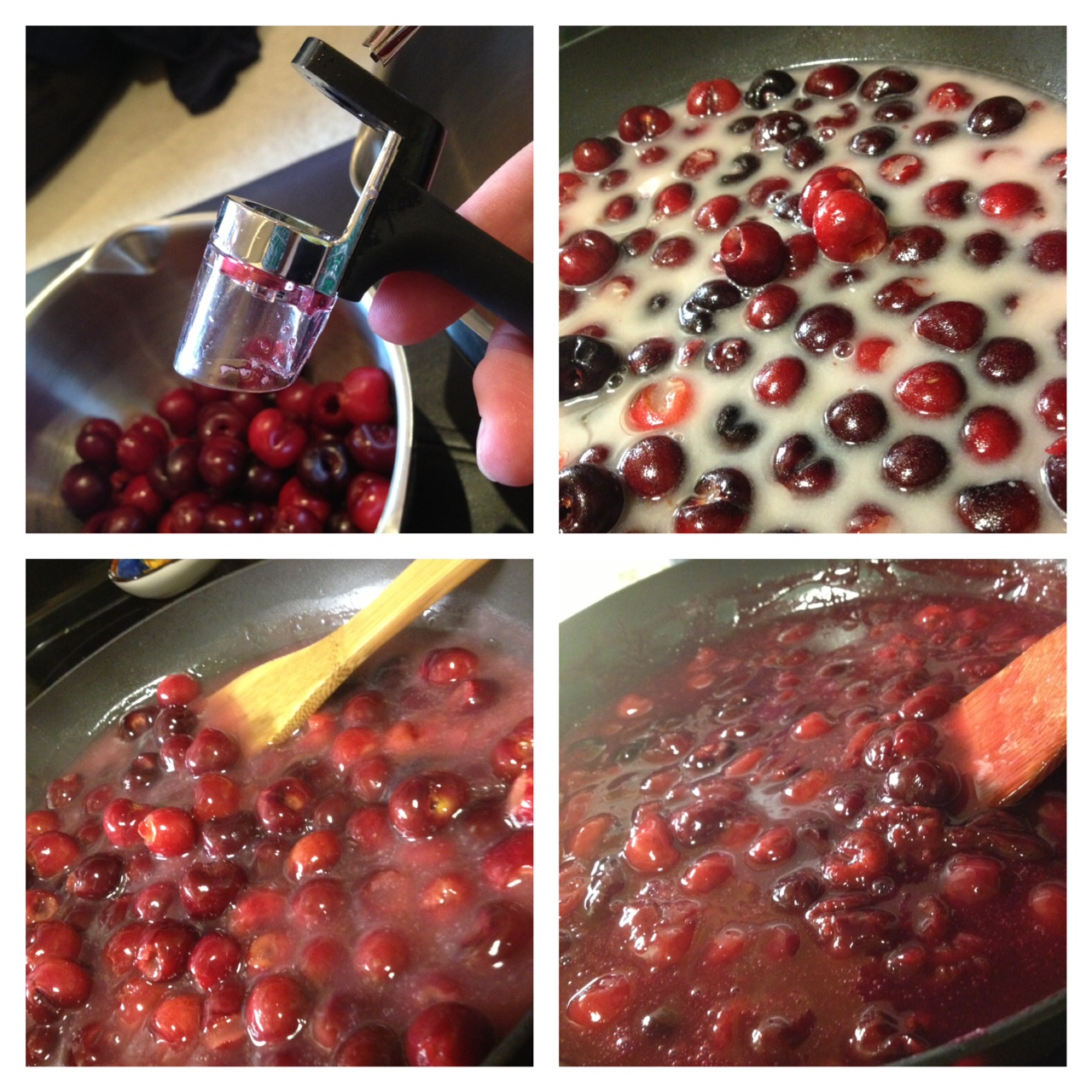 Homemade Cherry Pie Filling
Author:
Sweet Dash of Sass
Serves:
Enough for a 9 inch pie
Ingredients
⅔ cup sugar
¼ cup cornstarch
¼ tsp. salt
4 c. fresh cherries, pitted
1½ cups water
2 TBSP lemon juice
Instructions
In a large bowl, mix sugar, cornstarch, salt, and cherries.
Pour mixture into a large saucepan, add water and lemon juice.
Bring to a boil; cook and stir for 3-4 minutes or until thickened. Remove from the heat.
 Tip #1:  You can swap flour in place of cornstarch, but will take a few extra minutes of cooking time to thicken.
Tip #2:  This recipe makes enough for a 9-in. pie. To use in other dessert recipes, a 21-oz. can of commercial pie filling is equal to 2 cups.
Tip #3:  Highly recommend investing in a Cherry Pitter!  
What is a cherry pitter?  It is a device for removing the pit from a cherry, leaving the cherry relatively intact.   Range in price —$10-$13.  Recommended Brand —  XOX Cherry & Olive Pitter.  Very easy to use!
Fun Memory:  For years, I have always wanted to attempt in making a homemade cherry pie.   For whatever reason, I never had the confidence in myself to try!  Since I had some Amazon Gift Cards leftover to use from my Bridal Shower, I figured this would be the perfect time to purchase my own Cherry Pitter!!  I was beyond excited and couldn't wait to use it.  This past June, while cherries were in their peak season, I purchased a few pounds of Bing Cherries and finally attempted.  All I have to say is "Super easy"!  (As easy as my cranberry sauce recipe.)  And of course, tastes amazing!