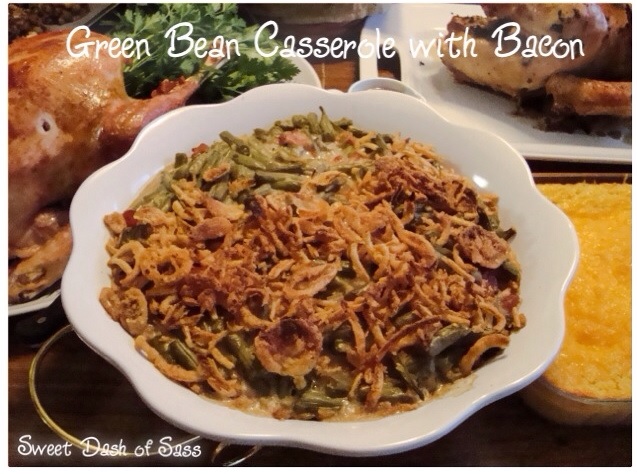 Growing up, I would always hear people talk and rave about green bean casserole, but it was something that my grandparents/parents never made for the holidays.  When it came time for me to host my first Thanksgiving, I decided to add this recipe to the menu.  I even decided to take it one step further by adding some bacon!  Yum….  Needless to say, I didn't have ANY leftovers of this dish!  And now it's my Dad's favorite dish.  This will definitely be on our Thanksgiving table this year!

Green Bean Casserole with Bacon
Author:
Sweet Dash of Sass
Ingredients
2 cans (10¾ oz) Cream of Mushroom soup
1 cup milk
2 teaspoons soy sauce
¼ teaspoon pepper
8 cups cooked, cut green beans
2⅔ cups French's Fried Onions
4 slices bacon, cooked and sliced
Instructions
Pre-heat oven to 350 degrees.
Mix Cream of Mushroom soup, milk, soy sauce, pepper, green beans, 1⅓ cup of Fried Onions, and bacon in a 1½ qt. casserole dish.
Bake 350 degrees for 25 minutes or until hot. Stir.
Sprinkle with remaining fried onions.
Bake 5 minutes until golden brown.
SERVES 12
Tip #1:  If you are using canned green beans, use 4 cans (14 1/2 oz each).
Tip #2:  Recommend using Applewood Bacon!
Tip #3:  Recipe can easily be cut in half!
Tip #4:  Love Mushrooms? — Saute 3/4 cup fresh mushrooms with 2 tablespoons of butter.  Season with Salt/Pepper.  Combine sautéed mushrooms to your green bean mixture prior to putting in casserole dish.
Tip #5:  You can prep this dish early in the morning and bake right before you are ready to eat your meal.  Complete all steps leading up to placing in your casserole baking dish.  Keep covered in refrigerator.  Just pull out of refrigerator at least 1 hour prior to baking.  One less item to worry about when entertaining family or guests!