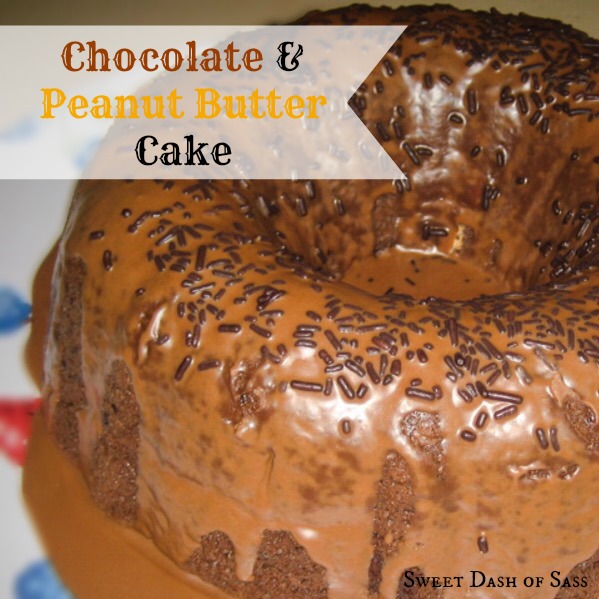 A few years ago, I made this cake for a friends birthday.  She was a huge fan of Reese's Peanut Butter Cups, so I thought this would be the perfect recipe for her.  She absolutely loved it!  If you are a fan of chocolate and peanut butter, then you will definitely be a fan of this cake!
Chocolate Peanut Butter Cake
Author:
Sweet Dash of Sass
Ingredients
Cake Batter
1 box chocolate cake mix (I used Pillsbury Moist Supreme Chocolate – 15.25 oz box)
16 oz. sour cream
3 eggs
9 Reese's Peanut Butter Cups, cut into ¼'s
Frosting
½ cup creamy peanut butter
½ cup milk chocolate chips
3 teaspoons oil
Instructions
Pre-heat oven 350 degrees.
Grease a bundt pan with non-stick spray.
Whisk eggs and sour cream together. Stir in chocolate cake mix. Mix until smooth.
Add half of the cake batter into a greased bundt pan. Sprinkle peanut butter cups over cake batter. Add remaining cake batter on top of peanut butter cups. Bake at 40-45 minutes.
Let cool in pan for 2-3 hours. Be sure cake is completely cooled before attempting to remove from pan.
To remove cake from pan: Place cake platter on top of bundt pan. Invert cake pan upside down. Tap around sides and top of bundt pan to help loosen the cake from the pan. Slowly lift pan off of cake.
To prepare frosting:
Combine all frosting ingredients and microwave for 1 minute. Stir until all melted and smooth. Pour over cooled cake.
Garnish with sprinkles, shaved chocolate, or chopped nuts, if desired. Enjoy!
Tip #1:
Not a fan of frosting?  Use a fine-mesh sieve or flour sifter to dust the cake with powdered sugar.  Do this right before serving or else the sugar will melt into the cake as it sits. 
Tip #2:  Be sure to position bundt pan in the center of the oven.
Tip #3:  To prevent air bubbles within the batter, spoon cake batter into the pan slowly.  If you pour quickly, air pockets could form, which could produce holes in your finished cake.  To release any potential bubbles that developed, tap the pan gently on a work surface.