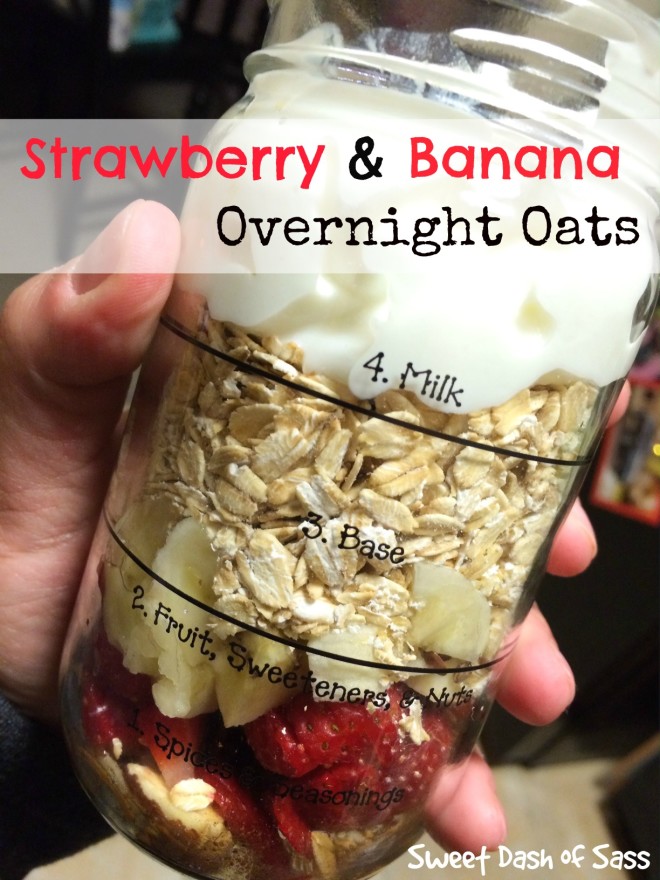 I have been on an Overnight Oats kick ever since I purchased my own Overnight Oats jar.  I love the fact it takes less than 5 minutes to assemble/prep – stir and let your refrigerator do the magic overnight.  In the morning, just grab a spoon and you are ready to eat.  You can eat them cold or warm (I prefer heating up slightly in the microwave to take the chill out.)  In case you missed my previous post for Peanut Butter & Banana Overnight Oats – I describe in detail what Overnight Oats are, more about the VDB Overnight Oats jar, and another delicious recipe idea.
Note:  If you don't have the Overnight Oats jar, a mason jar would work just fine.
Last weekend, Bob and I ventured out to our local Costco.  Mainly to look at what furniture they had available and grab some meal items for the week.  We are looking to get a new couch.  Unfortunately, nothing we saw caught our eye furniture wise.  However, while looking at their fruit/produce aisles, I came across strawberries.  Normally, I would totally ignore strawberries this time of year, as they typically aren't in season right now.  But these strawberries looked (and smelled) so good.  I think the package said they were grown in a greenhouse.  I decided to pick up a package.  I'm so glad I did.  Let's just say they didn't last more than 2 days in our house.  Aside from eating them on their own as my sweet treat/dessert – I used some to make another Overnight Oats recipe!  Definitely a success!
I love the fact that there is no cooking/baking involved with this recipe.  Plus, you can customize the flavors to your own liking.
Basically you can start with your Base Ingredients:  Rolled Oats/Greek Yogurt/Milk (see quantities within recipe below) — then add whatever other flavors/ingredients you desire (Endless Possibilities)!

Strawberry & Banana Overnight Oats
Author:
Sweet Dash of Sass
Ingredients
½ cup rolled oats (not quick cooking)
½ cup milk
⅓ cup greek yogurt (I used 6 oz. container of Fage Total 0%)
1 teaspoon vanilla extract
½ teaspoon cinnamon
1 tablespoon sliced almonds
½ banana, sliced
3-4 strawberries, sliced
½ tablespoon flax seeds
1 tablespoon honey
Instructions
In a jar, "dump" the following ingredients in this order: vanilla, cinnamon, sliced almonds, banana, strawberries, flax seeds, honey, rolled oats, yogurt, and milk.
Stir ingredients together in jar.
Close jar with lid - place in refrigerator overnight.
In morning, Grab a spoon and you are ready to eat! You can eat them cold or warm.
Notes
For this particular flavor, I prefer to heat up in microwave (without the lid) for 30 seconds or so to take the chill out.
Optional : You can garnish with a few extra almonds, strawberries, bananas, or honey.