Final Day ~
Well, basketball was not our friends this morning.  Basically with Virginia losing, we lost any chance of winnings from games this day.  We couldn't let that ruin our day.
We headed over to The Linq to grab brunch at Hash House A Go-Go.  We have been there before and I highly recommend going.  They are known for their monster-sized portions and they are open 24 hours a day.  They have received many awards for Best Breakfast, Best Brunch, Best Sandwich, and several others. You might have seen them on Man vs. Food – Adam Richman ate the Fried Chicken Farm Benedict.
If you haven't seen the clip from the show – check it out below!
When we went prior, I had the french toast – which was beyond amazing.   I was looking forward to having them again.  However, bad news this time around — they had nearly a 2 hour wait!  We ended up deciding to go to a different restaurant within the casino called Off the Strip Bistro & Bar at The Linq.  If you are looking for a place for a beer and some appetizers this restaurant is for you.  I would not recommend this place for their breakfast though.  I was very disappointed – I ended up ordering Corned Beef Hash with 2 over easy eggs and a biscuit on top.  The biscuit was very dry and crumbly.  I couldn't even spread jelly on it.  I was bummed.  All I could think about is how I wanted that french toast from Hash House A Go Go.  Sigh…
After eating, we headed out towards the NEW! The Linq Promenade.  Lots of outdoor retail, dining, and entertainment – over 40 shops and restaurants to be exact!  It reminded me of a larger version of Cleveland's East 4th Street in a sense.
The main feature is the High Roller, a 550 foot observation "ferris" wheel — tallest in the world.  It offers 360 degree views not only of the strip, but the entire Las Vegas Valley as well.
Each "cabin" holds up to 40 people!!  There are benches to sit down or you can stand against the window to admire the view.  Best View:  As soon as you enter the cabin on the right hand side.  I highly recommend sitting or standing in this area.  Believe me, everyone will want to take pictures in this area as you go up.  Tickets are $24.95 during the day or $34.95 at night.  You can even rent out the entire cabin!  Several places online have coupons for discounted rates on tickets!  Check it out to save a few $$$.  The ride lasts about 40 minutes.   Here are several pictures from our view!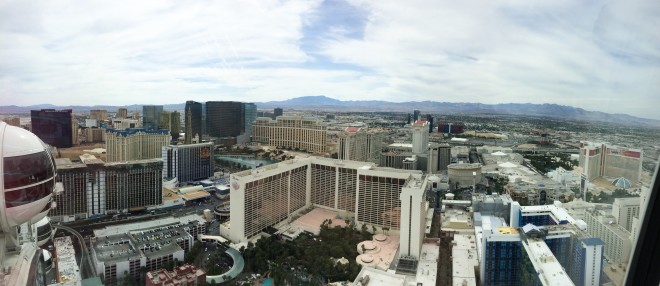 For an appetizer, we chose pot stickers and a cucumber salad.  As soon as I saw thing, I thought of our amazing dish from Lemongrass a few days ago.  While it was good, definitely didn't compare to them!  A few people ordered sushi around us and they looked really good.  I actually wish I would have went that route.  Ended up choosing the Pan Seared Sea Bass.  It was okay – if I came here again, I would go for the sushi!
Sadly, this was our final night.  We had an amazing time.  As we were walking back to our hotel, we talked about all the highlights and fun times we had.  We ended the night by playing a few slots and table games.  Grabbed a drink at Starbucks and headed to bed.  Of course, we will definitely be back next year!  The funny thing is, I will be there next week for a training convention for work!  Hope you enjoyed hearing about our mini adventure.
In case you missed out on any of the previous posts – check them out below: